10 'Killer Mistakes' Stopping You From Hiring High Performing Sales And Leadership Talent!
Easy to implement talent acquisition tips for CxO's, Board Members and Business Leaders.
As a leader in your business, you know your results and ultimate success will be dependent on the quality and success of the people you hire.
Our latest e-book helps you through the minefield of hiring top level executives and avoiding the cost of a bad hire.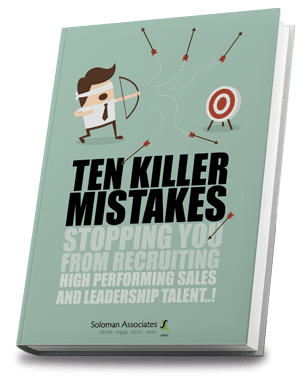 Get your FREE copy.
About The Author, Sol Jeewa

Sol Jeewa A trusted advisor to business leaders, Sol Jeewa is an Executive Search veteran with over 25 years recruitment experience across EMEA, APAC and The Americas. He is passionate about helping companies hire the right Talent 1st time and mitigate the risk of bad hires.
Full Chapter List
Here's the complete chapter list. Don't miss out on this awesome content.
Lack Of Due Dilligence
08
What Readers Said About This Book

James K
These guys are the best at what they do - they know their stuff. Just reading their various ebooks will be proof enough.

Jane W
The ebook's Soloman Associates have provided have been extremely helpful in achieving my business goals. I highly recommend these guys!